Contact Boss is the ideal tool to manage all aspects of your contact database.
Contact Boss is the perfect, all-round flexible solution to your small business CRM needs. Without being too complex, our software lets you take charge of all aspects of your customer relationships, from capturing the initial contact detail, to managing events and ongoing communications. The easy-to-learn interface means your team will quickly adapt and be happy to take on new contact management tasks that are supported by the Contact Boss CRM.
Contact Boss is cloud-based, so you can subscribe and manage your data from any country including Canada, the US, Europe or beyond.
And you can use Contact Boss to manage much more than your customer contacts - Contact Boss's contact management software is fully equipped to handle data on all your contact types from customers to staff, from suppliers to donors. And each contact record can go well beyond the basic "tombstone" data, allowing you to keep detailed notes on all interactions.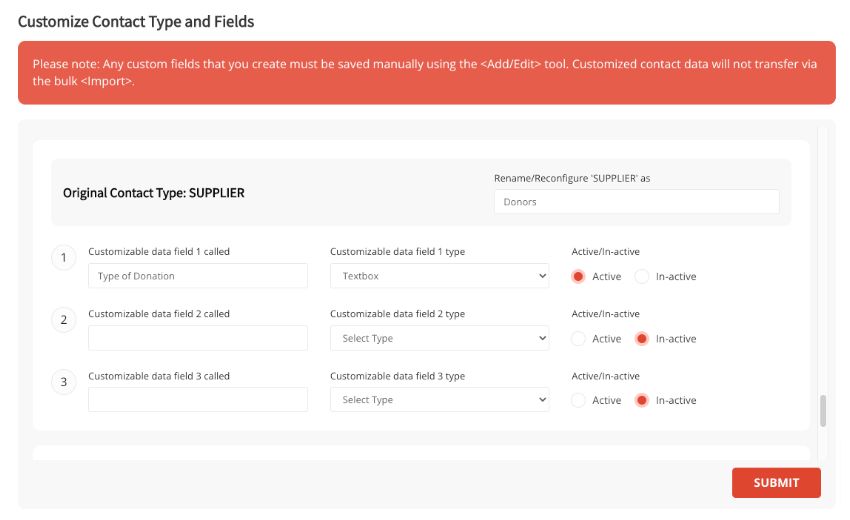 Contact Boss also provides options to customize important aspects of your database. For instance, you can choose to rename contact types with titles specific to your own organization's needs. As well, with Contact Boss CRM software, you can add custom fields to your contact listings, permitting the inclusion of personal notes or more detailed descriptions such as hobbies, memberships, or education.
With Contact Boss, you have the control to add or change users, view statistics, create contact groups, lock or unlock accounts and change the contact type. Within the Admin settings, you can also set new passwords and control security questions.
Contact Boss is the ideal tool to manage all aspects of your contact database, offering a full range of features, and plenty of flexible options for customization to suit your business with none of the complexity.