Search contacts
Searching your database is easy with Contact Boss. Our robust search tool allows you to search by first or last name or by date, keyword or comments.
You have two easy means of searching the database - the first is a very simple <Quick Search> option which simply requires the insertion of any keyword which will help you find the contact quickly.

With the <Advanced Search> you can also search by Contact Type (employee, client, funder etc.) or by Group (such as contacts who have opted in to your mailing list, or other groups you have created). As an added benefit, you can search your Groups, and create your custom mailing list by combining more than one Group in your search. Thus you could generate a list that includes contacts from two or more Groups! Using these search categories, you can develop a useful customized list of contacts, ready for your next outreach or communication.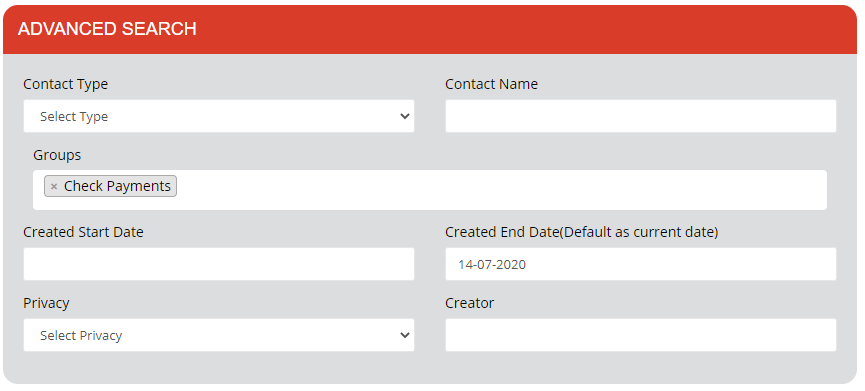 The secret to the Contact Boss search tool is that it searches across multiple data layers, which means you can locate a contact by any details you enter. You can even search based on any personal details you may have recorded, such as who introduced you. Additionally, you can locate records by details such as comments in the notes filed, who created the record, or the privacy level, as some users are able to create private records of contacts if desired.
When your list has been created you can <Sort> by Name, Contact Date, or Contact Type.

Please note that clicking the "No." box located in the left of the header will select all records and for Admins with permission they may use this "select all" box to delete all contact records in the list. It is not necessary to use the check boxes to select the names you wish to include in your mailing list .

This is also a moment when you may wish to <Edit> the record (using the "pencil" edit icon on the right); add a document with more information by using the "upload" icon; or find out who added the name to the list by clicking the "head" icon. It is also possible at this stage to give the contact access to Contact Boss by clicking the "create login" icon, or you can delete the contact simply by using the trash icon to the far right. Be careful you do not delete records that you wish to keep!
Once you are satisfied with your list you are now ready to download, either by generating a PDF, a CSV file, or mailing label format. Or you may decide to export the email list directly to Gmail or Yahoo, which is easily achieved simply by clicking on the icons. All the contacts in your list will be transferred to the format you choose.
If you think you might be missing some key contacts in the list you generate, it is easy to make use of the <Quick Create> button on the bottom right and add names on the fly. (show symbol).